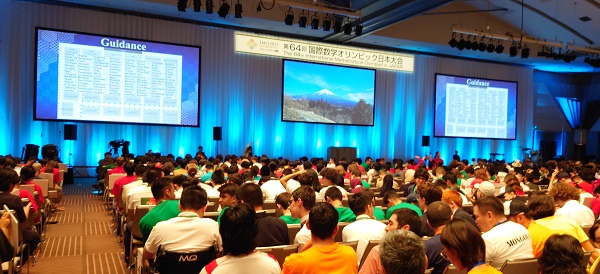 The splendid opening ceremony showing-up each team with diverse personalities on the stage
Updated:2023-07-08
On the afternoon of July 7th, the opening ceremony of the 64th International Mathematical Olympiad (IMO) Japan took place at Makuhari Messe in Chiba.
The ceremony began with a powerful performance by the Wadaiko group, Arakawa Shachu, followed by speeches from Ms. Nagaoka Keiko Minister of Education, Culture, Sports, Science and Technology, Japan (Honorary Chairperson of IMO 2023 Organizing Committee), Gregor Dolinar, the President of the IMO Board (Professor at the University of Ljubljana, Slovenia), and Takeshi Soeda, the Chairman of the IMO 2023 Organizing Committee (President and CEO of Gibraltar Life Insurance Co., Ltd.). At the end of Dolinar's speech, Keisuke Koide, a member of the Japanese team (Nada High School, 3rd year), was called upon to the stage to represent the participating contestants and make a solemn pledge in English to compete fairly and honestly.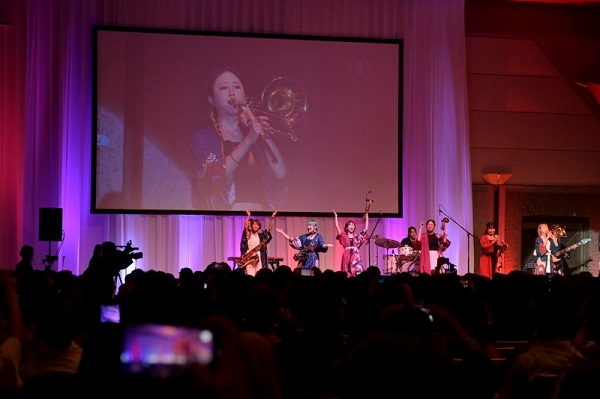 Next, the brass band "Tokyo Brass Style" took the stage. With performances of arranged songs from popular anime theme songs, the atmosphere in the venue reached a high point.
During the opening ceremony's highlight, the contestants' introduction, representatives from each country and region took turns coming up to the stage. On the stage, the individuality of each team was showcased as they carried mascot dolls or wore traditional costumes. For example, the Argentine team appeared with a doll featuring soccer player Messi, while the Finnish team carried a Moomin doll. When the Ukrainian team and the sole participant from Tanzania took the stage, the venue erupted in applause. Finally, the Japanese team appeared in yukatas, summer kimonos, as they held bamboo branches with tanzaku, strips of paper, attached, in reference to the Tanabata festival, which falls on the same day as the opening ceremony.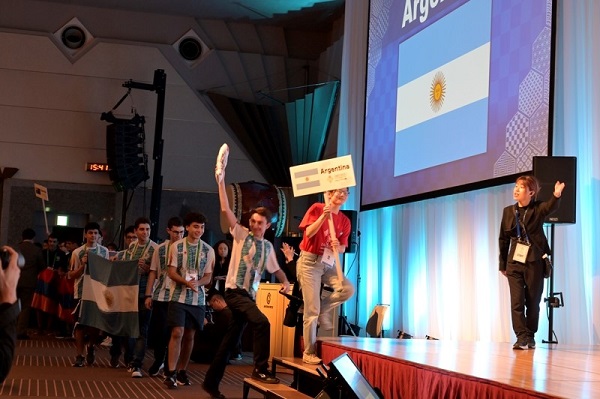 To conclude the ceremony, Takahiko Fujita, a professor at Chuo University and the Chairman of the IMO 2023 Executive Committee, delivered a speech, and the two-hour opening ceremony came to an end. The contestants will now focus on the competition, where they will solve three problems each day starting from July 8th.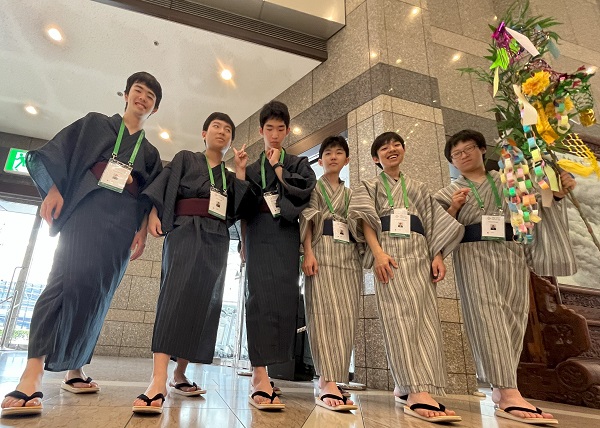 * Here, we write the name of the Minister in the order of "family name, first name" according to the writing policy of the ministry.